Asset Dash Rehash: Bitcoin, Tesla, and Nike!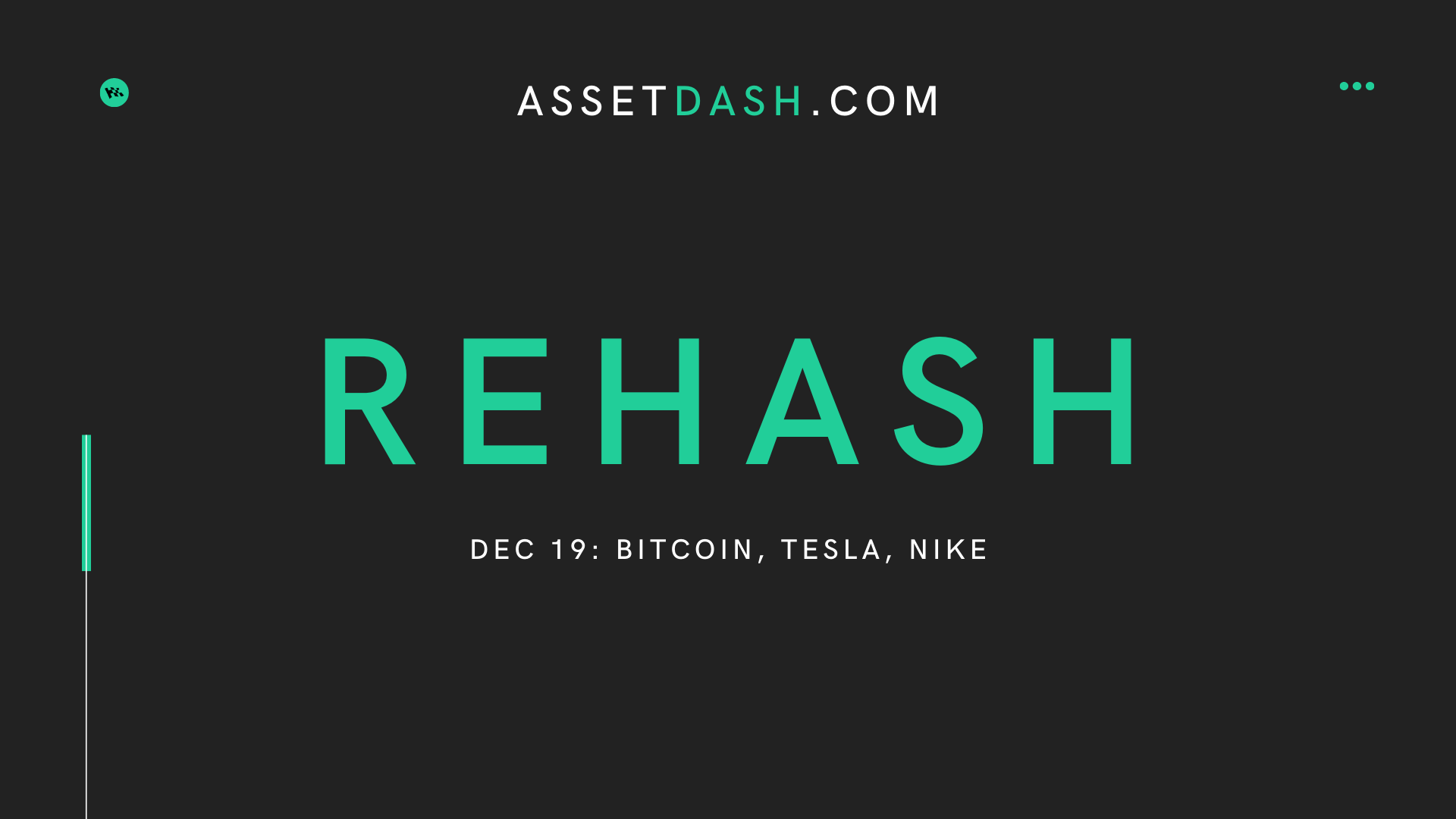 Introduction:
Hello everyone,
Welcome to the Asset Dash Blog
My name is Matias, founder of Asset Dash. First, I really appreciate the support Asset Dash has received thus far. Over the next few months we will be releasing new features and announcing new partnerships that I believe will enhance the overall Asset Dash experience.
As for the blog, I plan on sharing the Asset Dash Rehash every Saturday. The goal of the Rehash is to provide a quick recap of what happened on the Asset Dash leaderboard during the week. If you are not familiar, Asset Dash is a leaderboard for assets that tracks stocks, ETFs, and cryptocurrencies by market cap.
Ideally, the Rehash will provide you with a solid overview of key highlights in the market in under five minutes.
What Happened This Week On The Asset Dash Leaderboard:
Top 100
Winners and losers from the Top 100 assets on our leaderboard.
Winners:
Bitcoin (#12)
Rank: #12 (+3 this week)
Market Cap: $427.8 billion
What Happened:
Bitcoin surpassed $20,000 for the first time in its history. At the time of writing, it is trading above $24,000.
Guggenheim CIO set a $400K Bitcoin price target.
Coinbase, the largest cryptocurrency exchange in the U.S., announced their intent to go public.
Bitcoin moved up to the #12 position on our leaderboard passing JPMorgan in the process.
Tesla (#8)
Rank: #8 (+0 this week)
Market Cap: $658.5 billion
What Happened:
Tesla hit a new all time high on Friday.
Set a record for single day trading volume for an equity, trading $148 billion worth of shares on Friday.
Tesla joins the S&P 500 on Monday.
Tesla is less than $50 billion away from passing Alibaba on our leaderboard.
Nike (#33)
Rank: #33 (+16 this week)
Market Cap: $215 billion
What Happened:
Nike beat earnings this week on EPS and Revenue.
The earnings beat was driven by growth in China and Nike Direct sales.
Nike entered the Top 50 of our leaderboard this month.
Losers:
Intel (#41)
Rank: #41 (-5 this week)
Market Cap: $194 billion
What Happened:
Microsoft is planning to develop in-house server chips.
Apple recently unveiled the first Macs powered by its in-house silicon, which began a two-year breakup period with Intel chips.
Intel holds about 94% of the worldwide server chip market and there is an industry wide effort to reduce the reliance on Intel chips.
Notable Mentions From The Rest Of The Leaderboard:
Ethereum (#135)
Rank: #135 (+15 this week)
Market Cap: $76 billion
What Happened:
CME announced the launch of Ethereum futures in 2021.
Ethereum surpassed $650, a new high for 2020.
Coinbase plans to support Ethereum "staking" in 2021 allowing users to earn rewards.
Aphria (#1723)
Rank: #1,723 (-41 this week)
Market Cap: $2.2 billion
What Happened:
Aphria announced a merger with Tilray, creating the biggest cannabis company in the world by revenue.
The new company will be branded as Tilray, trade under TLRY, and Aphria's current CEO, Irwin D.Simon, will serve as the CEO of the new combined entity.
Sector of The Week
Our sector of the week is Gambling.
What Happened:
New Jersey set a record for sports betting handle with $931.6 million in bets in November, a U.S. record for a state in a month.
New York Governor Cuomo mentioned "sports betting" as a potential revenue option for the state. If online sports betting is legalized in NY, it would unlock the biggest market in the U.S. to date.
Bank of America raised the price target of Penn National Gaming to $101 and DraftKings to $60.
Content of The Week
Every week we will wrap up the Rehash with a recommended piece of content. This week it is an episode of Invest With The Best with Turner Novak. My favorite part of this podcast is the way Turner breaks down Pinduoduo and the rise of social eCommerce. If you are not familiar with Pinduoduo, give this a listen. Turner also goes into TikTok, their alogorithm, and what they did different.
Disclosure: Nothing I ever say is financial advice. I am with the Roundhill Investments team. Roundhill Investments is a registered investment adviser and ETF sponsor focused on thematic and sector-specific investing. I am an advisor for Unstoppable Domains, a blockchain domain company. This is not a recommendation to buy or sell securities. Have a great Saturday!
---
More Posts